Well as usual its been a VERY long time since the last update and we just had a big
H
APPY BIRTHDAY
COOPER
Cooper had a fantastic 1st Birthday party which included his first taste of ice cream in the form of his birthday ice cream cake. The rest of us had a pretty good time as well (except for the hangover the next day!) So at 1 year of age Cooper is now approx 10.5Kgs with 8 teeth with more on the way. He is VERY close to walking and has recently (as in yesterday) actually taken his very first steps, albeit only 1 step twice after being let go of while standing. He did get a walker from Granny Helen and Pa which is now his favourite toy (check out the photos!)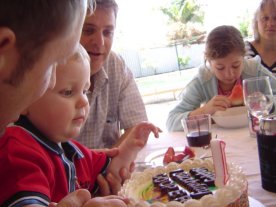 Well we are now looking forward to Christmas and our holiday in Melbourne and Tocumwal for a couple of weeks. We can't wait to take Cooper for a swim in the Murray River and to see his face come Christmas morning.
All the best until next time.
Ang, BJ & Cooper R.K.